At 14,410 feet, Mount Rainier is the most prominent peak in the Cascade Range. It dominates the landscape of western Washington, standing nearly three miles higher than the lowlands to the west. This majestic glacier-covered volcano has been called "an arctic island in a temperate sea."
This extreme mountain creates extreme weather with an annual average snowfall of 643 inches at Paradise. Snow closes the majority of park roads and eastside facilities in winter. In spring, park and state road crews begin the work to clear the roads of snow while utilities, campgrounds, visitor centers, and other facilities are prepared for the busy summer season.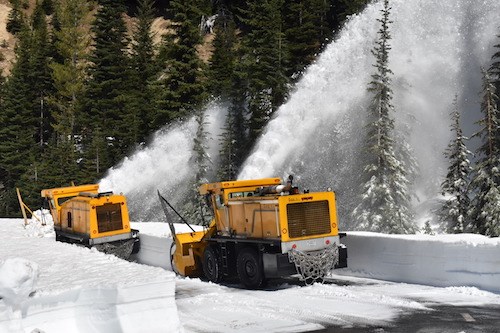 Current Conditions – Updated May 18, 2018
Park maintenance crews are currently working to clear roads and provide access to areas of the park that are closed during the winter season. View the following map and text for weekly updates on the crews' progress. Additional information can be found on the Road Status page.
Ohanapecosh: Crews are completing efforts to open the campground and visitor center for the season. The opening is scheduled for May 25.
Stevens Canyon Road: Crews are currently removing debris and clearing roadside ditches. The road is scheduled to open May 25.
Highways 123/410 (Cayuse and Chinook Passes): Closed between Stevens Canyon Entrance and White River Road due to the ongoing construction project. Scheduled to reopen June 11.
White River: As of May 18, the road is open from Highway 410 to the trailhead parking area at White River Campground. Crews are currently working to get campground utilities operational. White River Campground is scheduled to reopen June 22.
Sunrise Road: Crews are currently plowing through deep snow and removing debris and fallen trees. Estimated road opening is June 28.

For more images of spring opening operations, check out the Spring Opening 2018 album on Flickr.